Main content starts here, tab to start navigating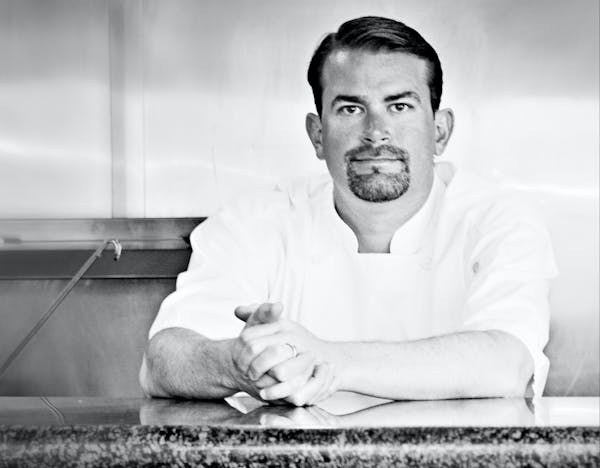 Chef Brian Vaughn
Chef Brian Vaughn crafts seasonal delicacies through his dedication and interpretation of contemporary mountain cuisine with a focus on sustainably raised agriculture. Inspiration for the menu comes from a blend of various culinary backgrounds, classical training, and top-notch restaurant experience. Both influences of southern and California cuisines also transpire on the menu, as he spent his childhood growing up in Louisiana and Kentucky and has a strong appreciation for the clean style of cooking associated with the West Coast. The simplicity in Vaughn's cooking makes for stellar dishes such as the acclaimed pumpkin agnolotti pasta, cape Canaveral royal red shrimp, brian's famous 48-hour chicken, wagyu beef zabuton, Nantucket bay scallop ceviche.
Vaughn sources ingredients from a variety of local farmers and foragers, focusing on items such as local grass-fed meats, certified organic produce and eggs, sheep's milk cheese and wild edibles.
Background
An innovative and deliberate figure in the Rocky Mountain culinary world, chef Vaughn is pioneering a new approach to artisanal cuisine. Having worked in the culinary industry for over 20 years, Vaughn's first impressions of food and beverage were made during his childhood in the South surrounded by southern and Creole cuisines. At the age of 14, he began working in restaurants to earn enough money to be a "ski bum" and spend the summers in Steamboat Springs. After graduating from high school, Vaughn packed his bags and permanently made the move. He took a position as a sous chef at a French restaurant in town, working under chef Richard Billingham, who would go on to become a mentor of Vaughn's. Impressively, Billingham promoted Vaughn to chef de cuisine at the age of 23. Vaughn continued his growth in the culinary industry through courses at the Culinary Institute of America in Napa Valley. Vaughn became executive chef upon Billingham's departure.
Brian furthered his education at Johnson & Wales in Miami with a culinary degree, and also accepted a highly-competitive position at Norman's, honing his skills under the tutelage of legendary chef Norman Van Aken. "I continue to be motivated daily trying to recreate Rocky Mountain cuisine the same way that Norman Van Aken reinvented and brought New World cuisine to South Florida," states Vaughn. In addition to Billingham and Van Aken, Vaughn has also trained as a stagier under culinary icons and chefs Charlie Trotter at Charlie Trotter's in Chicago, Govind Armstrong at Table 8 in Los Angeles and Daniel Boulud at Café Boulud in New York City.
All of Brian's training and experience has positioned him to successfully lead the restaurant's kitchen and forge relationships with local and organic farmers and vendors, ultimately leading to a superb dining experience for Three Wynwood guests.